What is noise?
Noise consists of sounds that travel through the air as a series of waves, which are described and measured in decibels dB(A).
Noise is also characterised according to loudness (amplitude) and pitch (frequency). These components can make noise less noticeable, for example the sound of an air conditioner; or more annoying, such as tonal or impulsive sounds like vehicle horns.
We experience a range of noises in everyday life, which affects everyone differently. People who live in quiet areas will often experience an increase in noise more than those living in noisy environments.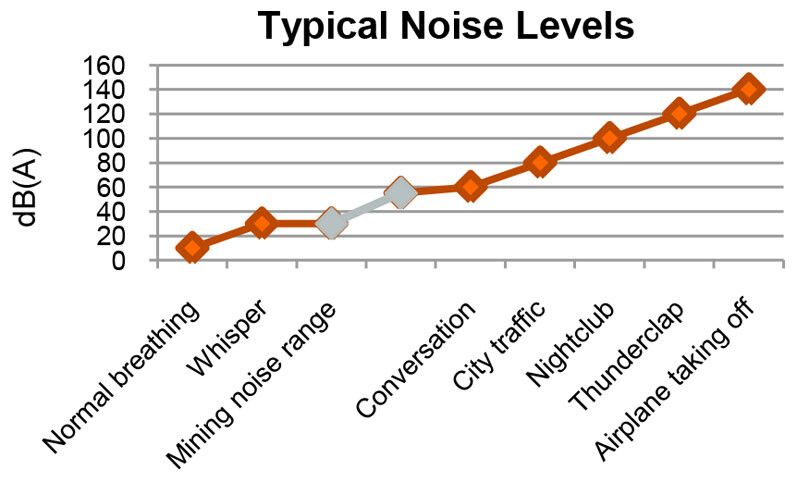 Above graph provided by the New South Wales Minerals Council Factsheet.
Noise sources
Our mines generally operate 24 hours a day, seven days a week. Under certain weather conditions, mining noise can be heard in neighbouring community areas from time to time. Haul truck engine and exhaust, track noise from dozers, and impact noise from the loading of material into trucks are some of the more commonly audible sources.
Meteorological conditions have a significant influence on the propagation of noise from one night to the next. Prevailing wind conditions and the presence of temperature inversions affect the way that noise travels through the air and is experienced nearby.
Measuring noise
We regularly measure noise generated by our operations to assess our performance against regulatory conditions and the effectiveness of our noise management strategies. We measure noise using a combination of attended noise monitoring (hand held units) and real time noise monitoring.
Where noise levels are measured in excess of the specified criteria, our operations are required to take action to ensure that noise is reduced to or below the criteria within 75 minutes from the time of the reading. Modifications to operations are generally undertaken according to a hierarchy of control, and include:
Re-arranging fleet types*
Changing haul routes
Changing dump locations
Reducing fleet numbers
Shutting down tasks/mine site
*The MTW fleet are fitted with sound attenuation packages reducing their noise levels. Some types and styles of Trucks are louder than others, these are assigned to work areas further away from receptors.
Minimising noise
We try to reduce noise from our operations in the following ways:
Adjusting mine activity for day and night condition;
Fitting heavy equipment, for example trucks, dozers, excavators and drills, with sound suppressing equipment (known as attenuation). This might include enclosing engine bays with insulation and fitting mufflers on exhausts;
Using quieter equipment in noise sensitive areas;
Using "light horns" on loading units instead of audible horns;
"Touch" loading of trucks, to reduce the potential for loud bangs on impact; and
Utilising engineering controls and lubrication on shovel buckets to reduce impact noise
Community Response Officers - MTW
MTW's Community Response Officers (CRO's) undertake a range of environmental management activities. Through handheld (attended) noise monitoring, the CROs investigate and validate real time noise alarms, and verify the effectiveness of any changes made in response to elevated noise levels.
The CRO's carry out routine attended noise monitoring at several locations surrounding MTW, including the Bulga and Long Point areas.
Our CROs communicate regularly with the mine shift coordinator (OCE) to help the site make changes to its operations if noise levels are rising, and to let them know whether the changes are working to reduce the noise levels in real time.
Our CROs also speak with community members who raise concerns about mine noise. They receive and respond to complaints and inform community members of current noise levels, and (if applicable) any changes that have been implemented at site to minimise noise.  
Compliance
Compliance assessments are undertaken by specialist consultants on a routine basis. Monitoring is completed on a random basis, once per month at a number of locations surrounding MTW. The results of compliance monitoring are reported publically each month in the document library of this website. For more information on compliance assessment, please refer to the MTW Noise Management Plan.
Is mining noise regulated?
Noise emissions from open-cut mines are regulated regulated through the Protection of the Environment Operations Act 1997 (NSW). The EPA provides a framework for the assessment and regulation of Industrial Noise in NSW. Noise limits applicable to individual private residences are defined in the relevant Planning Approval, which also sets out the requirements for monitoring performance and reporting. 
Where can I find out more information?
You can find out more about NSW noise legislation and regulations, industrial noise policy and the Australian and New Zealand Environmental Council's guidelines for blasting at www.epa.nsw.gov.au
You can find out more about how we manage noise impacts to ensure that levels do not exceed the specified criteria in the MTW noise management plans along with supporting documentation in the websites Document Library.